EnCase® Cybersecurity repose sur la technologie EnCase®. Contrairement aux produits de sécurité traditionnels (qui s'intéressent uniquement aux problèmes matériels tels que les virus, les vulnérabilités ou les sondes réseau), EnCase® Cybersecurity repose sur des processus d'analyse scientifique et vous permet d'accéder directement aux données enregistrées sur le disque et en mémoire, indépendamment du système d'exploitation et des technologies.
EnCase® Cybersecurity is the endpoint incident response and data auditing software solution designed to reduce costs and complexities associated with the incident response process and reduce the risk of exposing sensitive data to loss or theft.
EnCase® Cybersecurity helps prioritize analysis of potentially infected systems, determine source and scope of an incident, identify potential data loss scenarios and minimize time to remediation.
When integrated with the alerting or event management solution of your choice, the power of EnCase® Cybersecurity shines — the moment an alert or event is generated, real-time response automatically captures critical endpoint information before it has a chance to decay or disappear altogether — giving you the information you need to quickly and accurately determine what actually happened.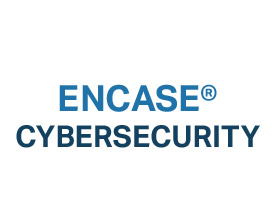 The EnCase® Cybersecurity Advantage:
From the initial investigation through triage to remediation, EnCase® Cybersecurity fully addresses endpoint incident response and is the preferred solution for government agencies and leading financial, retail and entertainment organizations
Integrates with any security event management or alerting system to enable automated, real-time response, allowing you to capture critical endpoint data the moment an alert is generated, even if it happens at 2 a.m.
Built upon gold-standard EnCase® Forensic technology, EnCase® Cybersecurity exposes both unknown threats, artifacts related to an incident and sensitive data residing on endpoints, no matter how well hidden
Backed by our incident response expert services that provide industry best practices, integration services, training and the industry recognized EnCE® certification